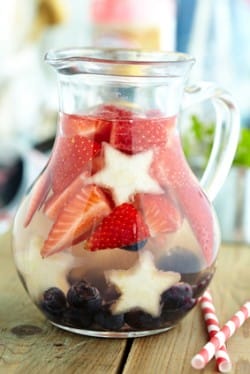 This 4th of July, celebrate your independence (and mixology skills) by whipping up one these red, white, and blue cocktail creations!
Strawberries, sliced
Blueberries
Pineapple, cut into star shapes
2 bottles dry white wine
1 cup Triple Sec
1/2 Cup berry-flavored vodka
1/2 cup fresh lemon juice
1/2 cup simple syrup
Combine the ingredients in a large pitcher and stir. Chill in the refridgerator for at least four
hours.
2 oz white rum
6 oz pineapple juice
1 1/2 oz Coco Lopez Coconut Cream
1 oz heavy cream
maraschino cherry or strawberry for garnish
blueberries for garnish
Blend all ingredients with approximately 2 cups of ice. Strain into a hurricane glass, and garnish with fruit.
Red, White, and Blue Shot Recipe
½ ounce Grenadine
½ ounce Peach Schnapps or Vodka
½ ounce Blue Curacao
Slowly pour each ingredient into a shot glass to create a layered effect. Add them in the order listed above.
Ice cubes
Cranberry juice
Wild Berry flavor Gatorade Fierce
Diet 7-Up
1. Fill a clear glass with ice cubes to the top. Pour the drink with the most sugar (check the nutrition label) into the glass. For our red, white, and blue recipe, start with the cranberry juice.
2. Very slowly add a beverage that contains less sugar — in this case, the Gatorade. Be careful to pour it onto an ice cube — not directly into the other drink — to keep them from mixing.
3. Use the same technique to add a layer of Diet 7-Up.