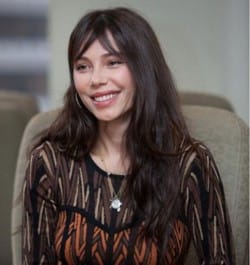 Oksana Grigorieva, prominent singer-songwriter, ex-girlfriend of Mel Gibson and domestic abuse survivor, has announced that she will stand united  with Long Island's domestic violence victims and cause-supporters by appearing and speaking at The Retreat's largest event of the year – Artists Against Abuse on June 22nd in Bridgehampton. The Retreat is a comprehensive domestic violence services agency.
"You should never feel alone when you are in fear. I am very honored to be a part of the Artists Against Abuse. It is truly a cause that is close to my heart," said Ms. Grigorieva.
Ms. Grigorieva follows in the footsteps of Kelsey Grammer, Debra Messing, and other respected icons passionate about the preventing-violence-against-women cause who have made catalytic appearances at The Retreat's major annual summer fundraising bash.
The event, this year entitled "Artists Against Abuse Goes Sixties," features a theme of music and all things 60's.
"More often than not, people are afraid to come forward and say they have experienced domestic violence," said Jeffrey Friedman, Executive Director of The Retreat.  "Oksana's brave and personal decision today to stand with The Retreat and speak out against domestic abuse is a testament to her resilience. She is lending a voice to many people who can't speak out for themselves due to fear.  We are so thankful for her support of our critical work."
Ms. Grigorieva, pianist/singer-songwriter of Russian descent, first captured international recognition when she wrote a song for Josh Groban's album Awake in 2006.  She is known too for her modeling and philanthropy, including her charity work with disabled children in Chernobyl and parts of Russia.  Earlier this month, Ms. Grigorieva released Love to Dance, a dance album with a celebration vibe.
The upcoming Artist Against Abuse charity event of The Retreat will take place at Ross Lower Campus Field House at 739 Butter Lane in Bridgehampton on Saturday, June 22nd from 6:30PM to 10:30PM.  A live auction will be featured at the event, which will include an original 6-foot tall sculpture by William King, VIP tickets to the Season 17 Finale of "Dancing With The Stars," dinner with Ina Garten of The Barefoot Contessa on Food Network, and a week in the French Riviera. The bidding will start early. Please visit www.ArtistsAgainstAbuse.com to win one of these auction items.
About The Retreat
For 26 years, The Retreat has been providing domestic violence services and education to families and communities. Programs include a residential shelter for women and children, a 24-hour domestic violence hotline, individual and group counseling, legal advocacy for all victims of domestic violence and dating violence, programs to engage troubled fathers and other men who may be at-risk of committing family violence, and an in-school violence prevention education program taught in local area schools. All services are provided free of charge.