Neil Simon's Plays, Musicals, and Movies Will Long Endure After His Passing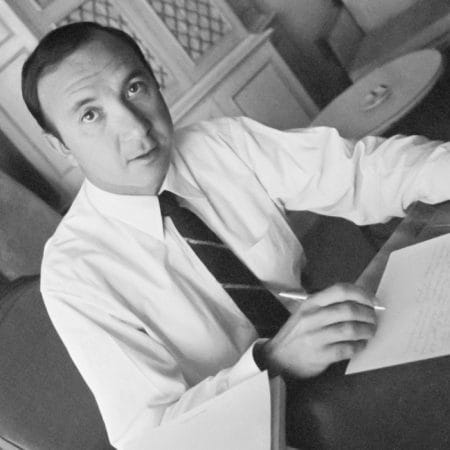 The evening when I met Pulitzer Prize-winning playwright Neil Simon, whose work I had long admired, was a night I will never forget.
The year was 1996 during a celebration of Jewish Book Month and the prolific scribe was in South Florida to talk about and answer questions about his memoir Rewrites, and sign copies of his book for his devoted fans.
Discovering that Mr. Simon had passed away at age 91 on August 26 in New York City brought an onslaught of theater and movie memories flooding back to me.
Mr. Simon's unparalleled career in the theater included more than 30 plays and musicals that opened on Broadway during a span of four decades.
He made his playwriting debut in 1961, with Come Blow Your Horn and concluded with 45 Seconds From Broadway in 2001; in between came an illustrious body of work that earned him numerous awards, honors and millions of fans.
My affinity for Mr. Simon's work began with some of Broadway's most successful comedies he first established himself with including, Come Blow Your Horn, Barefoot in the Park, Plaza Suite, and The Odd Couple, and continued with his numerous other Broadway plays, many of which I had the pleasure of attending
The Goodbye Girl, starring Marsha Mason and Richard Dreyfuss, was a favorite date-night movie, Chapter 2 gave me insight into his personal life, and I remember watching it with late husband several times.
While many years later he explored darker themes, such as those found in his semi-autobiographical trilogy (Biloxi Blues, Broadway Bound and Lost in Yonkers.) His turn of a phrase and relatable characters made me both chuckle and shed a tear, often during the same scene.
When I read the following quote from May 30, 2010, about Mr. Simon by John Lahr of The New Yorker, I felt it was a great summation:  "No playwright in Broadway's long and raucous history has so dominated the boulevard as the softly astringent Simon. For almost half a century, his comedies have offered light at the end of whatever dark tunnel America has found itself in."
That night in 1996 when I had the opportunity to talk to Mr. Simon about the art and craft of writing was unforgettable. He asked me to walk with him around the Jewish Community Center in West Palm Beach, FL. while we talked and join him at the autograph table while they were setting up. All told our discussions lasted about an hour, and he was gracious enough to let me take a photo with him.
[Photo Credit: Harry Forman]
At age 69, his poetic words slipped off his tongue and he shyly appreciated the crowds of film and theater fans who lined up for a few seconds with their favorite author.
He spoke about his evolution as a writer, his daughter, Ellen Simon, following in his footsteps with her poignant movie Moonlight and Valentino.
Among a host of leading actors who appeared in Simon plays and musicals on Broadway include a who's who of the best of Broadway: Nathan Lane, Matthew Broderick, Robert Redford, Walter Matthau, George C. Scott, Maureen Stapleton, Christopher Plummer, Peter Falk, Lee Grant, Tammy Grimes, George Grizzard, Jack Weston, Bernadette Peters, Martin Short, Linda Lavin, Gwen Verdon and Art Carney.
The directors of his works include Mike Nichols, Gene Saks, Bob Fosse, Robert Moore, Joe Mantello, Jerry Zaks, Herbert Ross, John Rando, and Michael Bennett.
During his long-running career, it was not unusual for Mr. Simon to have two Broadway shows running concurrently, sometimes three, and once, in 1966, he had four (Barefoot in the Park, The Odd Couple, Sweet Charity and The Star Spangled Girl). His plays have been translated into dozens of languages and are produced around the world.
Throughout his years of writing plays, Neil Simon also distinguished himself as a screenwriter of more than 25 feature films — both adaptations of his plays and original screenplays. In 1979, Mr. Simon received a Lifetime Achievement Laurel Award from the Writers Guild of America.
Marvin Neil Simon was born in the Bronx, New York, on July 4, 1927, to Irving Simon, a salesman in the garment district, and Mamie Levy Simon, a saleslady at Gimbel's department store. Mr. Simon had one brother, Danny Simon, eight years his senior. He grew up in the Washington Heights neighborhood of Manhattan and graduated from DeWitt Clinton High School. Mr. Simon studied at New York University and the University of Denver while serving in the U.S. Army Air Force Reserve.
Mr. Simon began his career in the early 1950s, working as a team with his older brother, Danny, writing scripts for radio and television shows, including The Garry Moore Show. Neil and Danny Simon were hired to join Mel Brooks, Carl Reiner, Larry Gelbart, and others, writing for Sid Caesar's legendary television series, Your Show of Shows, and its successor, Caesar's Hour.
On his own, Neil Simon wrote more than a dozen episodes of The Phil Silvers Show (Sgt. Bilko).
After 10 years in television, Mr. Simon turned his attention to writing for the stage. His first Broadway show was a comedy, Come Blow Your Horn (1961), directed by Stanley Prager. He wrote the book for the Cy Coleman/Carolyn Leigh musical, Little Me (1962), which starred Sid Caesar and was directed by the great director/choreographer Bob Fosse.
Next came two of the biggest hits of the 1960s, Barefoot in the Park (1963), starring Robert Redford and Elizabeth Ashley, and The Odd Couple (1965), starring Walter Matthau and Art Carney. Both shows were directed by Mike Nichols. Mr. Simon won the 1965 Best Author Tony Award for The Odd Couple.
Mr. Simon wrote the book for the Cy Coleman/Dorothy Fields musical, Sweet Charity (1966), starring Gwen Verdon, directed by Bob Fosse. The Star Spangled Girl (1966) featured Anthony Perkins and Richard Benjamin, directed by George Axelrod. Plaza Suite (1968), starred George C. Scott and Maureen Stapleton, directed by Mike Nichols.
He wrote the book for the Burt Bacharach/Hal David musical, Promises, Promises (1968), directed by Robert Moore, choreographed by Michael Bennett. Robert Moore also directed Last of the Red Hot Lovers (1969), as well as The Gingerbread Lady (1970) starring Maureen Stapleton. The Prisoner of Second Avenue (1971) starred Peter Falk and Lee Grant, directed by Mike Nichols.
Jack Albertson and Sam Levene played The Sunshine Boys (1972), directed by Alan Arkin. This production marked the beginning of Neil Simon's long association with producer Emanuel Azenberg, who produced all of Mr. Simon's original Broadway plays and musicals that followed.
Christopher Plummer starred in The Good Doctor (1973), directed by A.J. Antoon. God's Favorite (1974), starred Vincent Gardenia, directed by Michael Bennett.
In 1975, Mr. Simon received a Special Tony Award for his extraordinary contributions to the American Theatre.
 California Suite (1976) featured Tammy Grimes, George Grizzard, and Jack Weston, directed by Gene Saks. Herbert Ross directed Anita Gillette, and Judd Hirsch, in Neil Simon's semi-autobiographical play, Chapter Two (1977).
Mr. Simon teamed with Marvin Hamlisch and Carole Bayer Sager on a musical inspired by their personal relationship, They're Playing Our Song (1979), starring Lucie Arnaz and Robert Klein, directed by Robert Moore. Ron Leibman starred in I Ought to Be in Pictures (1980), directed by Herbert Ross. Fools (1981), a comic fable, featured John Rubinstein, directed by Mike Nichols.
Marsha Mason starred in Chapter Two (1979), directed by Robert Moore. Only When I Laugh (1981), a film treatment of Mr. Simon's Broadway play, The Gingerbread Lady (1970), was directed by Glenn Jordan. 
Walter Matthau starred in I Ought to be in Pictures (1982), directed by Herbert Ross. Jonathan Silverman headed the cast of Brighton Beach Memoirs (1986), directed by Gene Saks. Matthew Broderick returned to the role of Eugene Morris Jerome, which he originated on Broadway, in the film version of Biloxi Blues (1988), directed by Mike Nichols. Lost in Yonkers (1993) starred Richard Dreyfuss, Mercedes Ruehl and Irene Worth, directed by Martha Coolidge.
Mr. Simon returned to semi-autobiographical work with his acclaimed trilogy, Brighton Beach Memoirs (1983), Biloxi Blues (1985), both starring Matthew Broderick, and Broadway Bound (1986), starring Jonathan Silverman and Linda Lavin. All three plays were directed by Gene Saks. Brighton Beach Memoirs won the 1983 New York Drama Critics' Circle Award for Best Play. Biloxi Blues won the 1985 Tony Award for Best Play.
Suburban Philadelphia theatergoers currently have the rare treat of seeing a powerful production of Biloxi Blues at the Act 2 in Ambler, PA., now playing through Sept. 30. This show is a fitting tribute to Mr. Simon's work and reveals how timeless his work remains.
With a stellar cast, Biloxi Blues tells the story of Eugene Morris Jerome and his terrifying time in the U.S. Army's basic training. Eugene begins writing his memoirs and vows to have four things happen to him at the start of his military service: remain alive, lose his virginity, fall in love and become a writer. With great humor and some poignancy, he is able to accomplish all four priorities.
On June 29, 1983, during the run of Brighton Beach Memoirs, Broadway's Alvin Theatre on West 52nd Street was officially renamed the Neil Simon Theatre. This honor was bestowed upon Mr. Simon by the prominent Broadway producer and theater owner, James M. Nederlander. He was the only living playwright to have the distinction of having a Broadway theater named in his honor.
A female version of The Odd Couple (1985) starred Rita Moreno and Sally Struthers, directed by Gene Saks, who also directed Mr. Simon's farce, Rumors (1988). Lost in Yonkers (1991), starring Irene Worth, Kevin Spacey and Mercedes Ruehl, directed by Gene Saks, won the 1991 Pulitzer Prize for Drama and the 1991 Tony Award for Best Play.
 Alan Alda starred in Jake's Women (1992), directed by Gene Saks. Bernadette Peters and Martin Short starred in The Goodbye Girl (1993), a musical adaptation of Mr. Simon's movie of the same name, with a score by Marvin Hamlisch and David Zippel, directed by Michael Kidd.
Nathan Lane starred in Laughter on the 23rd Floor (1993), a play inspired by Mr. Simon's days in the writers' room during the run of Your Show of Shows. Katie Finneran was featured in Proposals (1997), directed by Joe Mantello.
Henry Winkler and John Ritter starred in The Dinner Party (2000), directed by John Rando. Mr. Simon's final original Broadway production was 45 Seconds From Broadway (2001), directed by Jerry Zaks. Both of these plays are memorable in Mr. Simon's career, as well as in mine since I saw them both and went backstage after seeing The Dinner Party to spend some time with Henry Winkler, who I had admired since his days as The Fonz on the beloved sitcom Happy Days.
 The title 45 Seconds From Broadway, refers to the amount of time it takes to walk to Broadway from the play's setting, a coffee shop inspired by one located off the lobby of mid-town Manhattan's Edison Hotel, a favorite hangout for theater types that is known for its inexpensive prices and delicious homemade soup. Before going to the theater that day, I well remember me and my husband feasting on corned beef and brisket sandwiches, pickles, and mouth-watering matzoh ball soup.
 In addition to a Pulitzer Prize and four Tony Awards, Mr. Simon received many honors, including four Writers Guild of America Awards, an American Comedy Awards Lifetime Achievement honor, the Mark Twain Prize for American Humor, and the Eugene O'Neill Theater Center's Monte Cristo Award.
He received honorary degrees from Williams College and Hofstra University and was a Kennedy Center Honoree in 1995.
Mr. Simon wrote two volumes of memoirs, Rewrites (1996), and The Play Goes On (1999). In 2016, Simon and Schuster published both books in one volume, Neil Simon's Memoirs.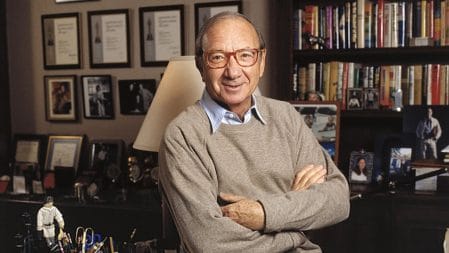 Mr. Simon was married to dancer Joan Baim, from 1953 until her death in 1973. Their two daughters, Ellen Simon, and Nancy Simon, survive him. His 1973 marriage to actress Marsha Mason ended in divorce in 1983. Mr. Simon and Diane Lander were married and divorced twice (1987-1988 and 1990-1998).
He adopted Ms. Lander's daughter, Bryn Lander Simon, who survives him. In addition to his daughters, Ellen and Nancy, he is survived by three grandchildren and one great-grandson. Mr. Simon is survived by his wife, the actress Elaine Joyce Simon, whom he married in 1999.
The Broadway and Hollywood communities felt heavy-hearted at the passing of one of their greats. It may be a little solace that there is a well-known belief in the Jewish faith that if you remember someone after they have departed, speak of them, and honor their work and beliefs, they are never really gone.
So, in keeping with this tradition Mr. Simon, will never be far from our hearts and minds, as he leaves behind a treasure trove of plays, musicals, movies and more. His legacy will surely endure; which is quite a comforting thought.