What Wine Should You Pair With Herbs?
Pairing wine with food has always been simple — red wine with red meat, white wine with lean meat. But, what if you stray from the norm? By pairing wine with the herbs you put in your food, you're creating a whole new sensation of flavors to your meals. This technique is as easy as pairing herbs with foods and just as fun.
Now is your chance to learn about pairing wine with herbs. It's a different exploration of flavor that will stimulate your taste buds. Once you start experimenting, you'll begin to notice how herbal aroma matches wine aroma, thus enhancing the wine's overall flavor. These matching aromas are known as aroma compounds. Pairing wine with herbs where the flavors match is known as congruent pairing.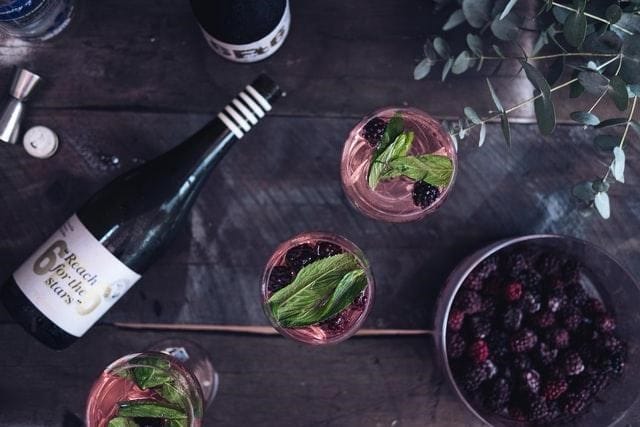 Photo by Melissa Walker Horn on Unsplash
Some herbs pair nicely with certain wines. Here are some general guidelines for pairing wine with herbs. 
Tips on How to Pair Wine with Herbs
Pairing wine with herbs is simple. Just follow the guidelines below and you'll start enjoying a fresh approach to drinking wine.
White wine goes better with soft herbs, such as basil, dill, and tarragon. Hard herbs, such as rosemary and thyme, tend to go better with red wine. The exception to this rule is sage, which goes with both red and white wine.

Fresh herbs pair nicely with white and rose wine, whereas dry herbs, such as oregano or a classic Herbes de Provence, don't. The exception to this is dried mint, which can usually pair with a crisp, lemony white or red.

For the best and most flavor, use freshly picked herbs or herbs sold in bunches. These fresh herbs influence the taste of the food better than herbs sold in packets.

If you use a few herbs together, such as mint, parsley, and coriander, you generally want to pair them with a wine that goes with the type of dish, such as, Italian or Middle Eastern.
Some herbs, such as parsley, chives, and dried oregano, are good to use with any wine for the most part. Dried oregano is used mostly in dishes with red sauce or pesto, which tends to be dominated by other ingredients.
Photo by Malgorzata Bujalska on Unsplash
10 Herbs to Pair with Wine
Many herbs pair with different wines. Here are the ten most common herbs to pair with wine-
Photo by Rob Pumphrey on Unsplash
Basil
One of the most flexible herbs, basil, comes in more than a dozen varieties. Its flavors can vary from citrus to spicy aromas. Since the aromas vary, so can the wine. If basil is your primary herb, go for a Chianti or Pinot Grigio.  
Photo by Rob Pumphrey on Unsplash
Dill
Dill is a pungent, earthy, green herb that is most often used in seafood. Since it has both a sweet and sour taste, it pairs perfectly with Sauvignon Blanc. Sometimes, though, dill works well with peppery Austrian grüner veltliner and Hungary's dry furmint. In this case, it's best to go with what your guests prefer.
Photo by Rick Proctor on Unsplash
Cannabis
If you didn't already know, cannabis pairs with just about any wine. Yes, weed and wine go hand in hand. Cannabis comes in a variety of strains that all have different flavors. If you are a regular cannabis user, you can even put CBD oil from a reputable cannabis store into your wine. However, it's best to take expert opinion before combining the two. There are high-quality cbd gummies in Canada available in the market to pair with your choice of wine.  A good rule is if you enjoy the pairing, then it's the right one for you.
Photo by Chandan Chaurasia on Unsplash
Coriander/Cilantro
Coriander, derived from the cilantro plant, is an herb you either love or hate. If you love it, you'll find that it pairs with a wide range of dishes from Mexican to middle eastern to southeast Asia. Since there's such a variety of dishes that the herb pairs with, so is the wine. Sauvignon Blanc and Dry Riesling are always good choices for fresh-tasting dill cuisine.
Photo by pintando la luz on Unsplash
Parsley
Since parsley doesn't have a dominant aroma, it pairs well with many foods, except sweets. For this reason, you can choose to serve Cabernet Sauvignon or Chenin Blanc, which adds flavor to the dish.
Photo by Alex Munsell on Unsplash
Mint
Mint is most often paired with Cabernet Sauvignon or Cabernet blends, especially when used with foods such as lamb. If you sprinkle mint on salads, it's good to pair it with a Sauvignon Blanc.
Tarragon
Today, tarragon is used often with French cuisine. With its licorice aroma, tarragon is an excellent choice to pair with Chardonnay. If your dish is calling for a red, a bold Syrah is a way to go.
Photo by Phillip Larking on Unsplash
Sage
Sage was first used medicinally in ancient Greece in Rome to treat anything from insomnia to venereal disease. It wasn't until the 16th century that sage became a regular ingredient in the food. With its earthy aroma, sage pairs well with Riesling or Pinot Noir. 
Photo by David Gabrielyan on Unsplash
Thyme
Generally used as a background flavor, thyme is seen mostly in classic British cuisines, such as beef stew—pair thyme with wines such as Cabernet Sauvignon or Pinot Grigio.
Photo by Vincent Foret on Unsplash
Rosemary
Rosemary is one of the most wine-friendly herbs, often pairing with a variety of foods. With its strong flavor, a little bit of rosemary can go a long way. The herb is paired easily with wines such as Chardonnay and Syrah.
The great thing about pairing wine with herbs is that you have guidelines, but you can always go with what tempts your palate. The point is to enjoy your wine as much as you savor your food. Cheers!
https://www.leafly.com/news/lifestyle/wine-cannabis-pairing-guide
https://www.onegreenplanet.org/vegan-food/coriander-spiced-recipes/?_sf_s=coriander
https://www.homestead.org/herbs/there-s-something-about-rosemary/
https://foodprint.org/real-food/sage/