Valentine's Day Gift Ideas
There's still time to buy (or make!) your loved one a Valentine's Day gift they will remember long after the chocolates are gone. Sure, a box of chocolates and flowers are always appreciated (especially roses and chocolate-covered anything), but step outside the box a little and show your Valentine how much they mean to you with a gift that's unique and special for them.
For the romantic:
Candles, chocolates, flowers…you know the deal: Romantic women love the most traditional of Valentine's Day gifts, but that also means you better not forget, and you better be romantic about it! Instead of waiting for a table at an expensive restaurant, go all out and have a romantic dinner for two at home. The more effort you put into it the better, so set the mood with candles, roses, and of course, a homemade dinner for two.
For the foodie:
Foodies are fun and easy to please – as long as it tastes good! If you're talented, or even mediocre in the kitchen, whip up something that will amaze your Valentine's taste buds and touch their heart with your effort. Whether it's an exquisite three-course dinner or a simple dessert like cheesecake or creme brulee, it'll be a Valentine's Day your sweetheart won't forget.
Afraid you'll burn down the kitchen? Melt some chocolate in the microwave and start dipping! The higher quality the chocolate, the better it'll taste, so forget Hershey's and other 99 cent bars. Make homemade chocolate-covered strawberries, bananas, apricots, pretzels, or whatever you're Valentine fancies. It doesn't get much easier than that!
For the athlete:
Working out can get ugly, and that may pose a serious fashion faux pas for the most stylish of gym rats. Sure, you can always give her more sports bras, workout tees, and other not-so-sexy gifts, but unless you can find heart-print sports bras and socks, or go for an all pink ensemble, none of that is very Valentine's Day appropriate. And let's face it, it's not always easy to pick out clothes for women.
Instead, go the tech route! Bring out her stylish side with some fashionable, yet functional ear buds! chicBuds Arts are the latest new fashion accessory for the music-loving, workout-obsessed fashionistas – and we absolutely love them! The cord is actually printed in either zebra, leopard or graffiti designs. And unlike regular earphone cords that wrap together to form a tangled mess, these feature no-mess flat cords. Perfect for working out without looking like a tangled, hot mess, and a gift that your fitness and/or music-loving Valentine will love.
Let's not forget about the spa. A couples massage is a great idea for any couple on Valentine's Day, but will be especially appreciated by an athlete. Strapped for cash? You know where we're going with this…pull out the lotion or oils, light some candles, and go to work on your loved one's over-worked bod.
For the sentimental: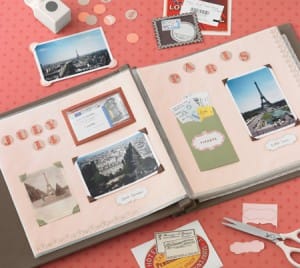 Nothing will touch your sentimental sweetie more than a personalized gift. Have something engraved, whether it's a jewelry box, wine glass, or even a custom phone case! You can create a case with a photograph of you and your significant other, displaying your love right where everyone can see it. So sweet!
Or go all out and start a scrapbook for your lady (or man!). It's not as hard as you'd think – just go to a craft store and pick out the basics: a scrapbook and it's accompanying paper, stickers, pens, etc. Then print out anywhere from 10-15 photographs, and you're on your way to a beautiful, creative display of your love. What sentimental, romantic Valentine wouldn't love that?
For the professional:
Initialed cuff links are a great gift for the business man in your life, as is a new briefcase, wallet, or even a nice watch – just stay away from the heart-printed ties and boxers.
For your guy, from the hot and camera-ready:
This may not be for the shy, timid, or body-conscious…but it's definitely a gift that your man, and even you, will appreciate for years to come. Grab your VS lingerie and find the nearest "boudoir photography studio." That's right – take a professional, sexy picture for the man in your life. Women who have done this LOVE it, and say it makes them feel more confident and sexy than ever before, and even see themselves in a whole new light. "I never knew I could look like that," says one woman.  Some professional photographers will even do house calls, so you can feel better about posing in the comfort of your own home. Give it a try!