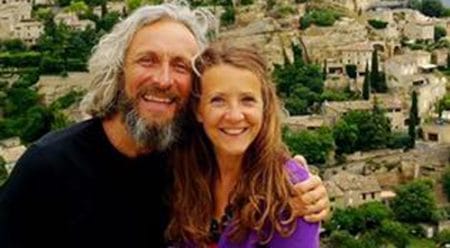 (PCM) Russell Davisons' absolutely heart-wrenching post explaining why he kept the body of his deceased wife Wendy in their bedroom for six days has gone viral and once you read it, you will completely understand. Get ready to have the tissues handy!
Russells' wife Wendy's 1o-year long battle with cervical cancer came to an end on April 21, 2017, but over the course of her illness she was a true fighter and her will to live exceeded many of the expectations set in place by her doctors and caregivers over the last several years of her life. Russell refers to his wife as a "warrior" and after reading their story, we have to say that we completely agree.
Right up until the end Russell and Wendy lived their lives the way they wanted to without relying on modern medicines and being in and out of hospitals. It was Wendy's wish to live out her final days in the couple's home surrounded by family and friends and their dog Elvis. Some questioned why after Wendy passed did Russell decide not to go the typical route by having Wendy's body moved to the mortuary, however his reasoning makes perfect sense.
Wendy's body was placed in a cocoon (as they would rather call it, as they hated the word coffin) and kept in the couples bedroom for the six days after her passing before she was to be cremated. Family and friends were able to come by and pay their respects and spend time with Wendy from the comfort of her own home which is perfectly legal.
As long as a death is reported and registered the family can choose to keep the body at home until the funeral arrangements are made, as historically in years past many individuals would die at home and their bodies would be cared for by the family until the time of burial and in more recent years cremation.
You can read Russell Davison's beautifully written post below and please share with your family and loved ones as the Davison's story can be truly be an inspiration to many!