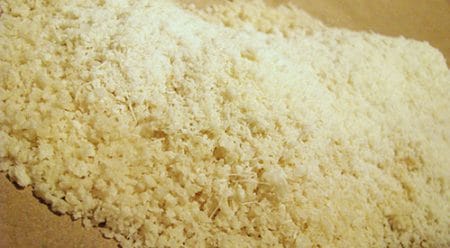 (PCM) Who doesn't love to sprinkle a little grated parmesan cheese on their favorite Italian dishes? Well, you may want to think again after the latest FDA report has discovered parmesan cheese sold at retailers such as Walmart and Whole Foods contain cellulose, which is an anti-clumping additive made of wood pulp.
Tests on several grated parmesan cheese products were conducted by Bloomberg News and the results are a bit concerning. Walmart's Great Value 100 percent grated parmesan cheese registered 7.8 percent cellulose and Jewel-Osco's Essential Everyday 100 percent grated parmesan had 8.8 percent. The levels of cellulose contained in these products are above what would be considered acceptable, which is only about 2 to 4 percent.
The FDA has now launched an investigation into the various cheese makers and retailers along with manufacturers are requesting that the Bloomberg test results be further analyzed. For now it doesn't appear that consumers should be afraid of falling ill, however higher concentrations of cellulose in products mean that the manufacturers are trying to cut corners by adding in all these substitutes and fillers.
What was scarier to us is that the report  also revealed that "no parmesan cheese was used to manufacture" the cheese. Instead, it was made with Swiss, mozzarella and white cheddar (which are cheaper) along with the cellulose.