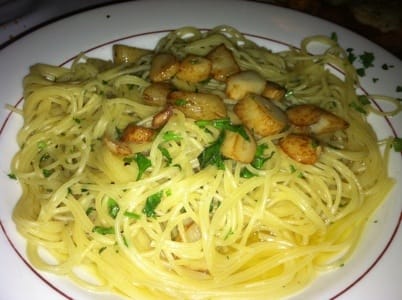 This week's I LOVE FOOD post is something I ate about an hour ago. I know… I am obsessed. But, this was always a favorite of mine that got lost in the Shake Shack burger and happy hour specials shuffle.
The pasta here is capellini. For those of you who have never experienced this type of pasta, it is (as you can see) extremely thin. The reason why the width of the noodle is so important here is that a huge spoonful actually melts in your mouth since it is so easy to chew.
My father ordered this as a side. Sometimes an entree such as Chicken Parm comes with a side of pasta. But, my father taught me a trick. Instead of getting the spaghetti with gravy, you can order it with garlic and oil INSTEAD. The red sauce is already on the chicken parm, so why not spice up the side dish? Or garlic it up?
The roasted garlic and oil topping to the capellini is wonderfully simple and delicious. Who doesn't like garlic? Besides middle-schoolers who avoid it like the plague on a night out at the movie theater. But, garlic and oil make a lot of dishes better… especially this one.